[toc]
Munich airport (IATA code MUC) is the second busiest airport in Germany and ranks as 7th busiest in Europe with over 38 million passengers a year. It offers currently flight connections to many airports in Germany and Europe, as well as many intercontinental destinations such as Brazil, Canada, China, Egypt, Hong Kong, India, Israel, Japan, Mexico, Shanghai, South Africa, Thailand, UAE, USA.
Munich airport is also an air-hub for German airlines Lufthansa and the international aviation alliance Star Alliance consisting of several other airlines (counting the second largest German airline Air Berlin).
Munich Airport
Munich Airport has been named after former Bavarian prime minister Franz Josef Strauß. In German language its full name is Flüghafen München Franz Josef Strauß. Munich Airport Franz Josef Strauß is located 30 km (18 mi) north-east of Munich, close to the city Freising.
Munich airport is often mistaken for Memmingen Airport (IATA code FMM) which is marketed as "Munich West" by Ryanair. Munich West airport is located around 110 km (70 mi) to the west of Munich and it's official name is Allgäu Airport Memmingen. For Memmingen Airport as Munich West airport, and how to get and out and from it, please check our guide about how to get from Munich West airport to Munich.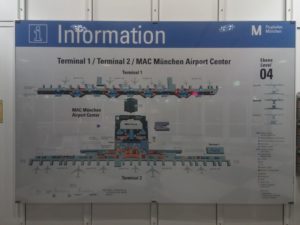 Terminal 1
Terminal is segmented to five modules A, B, C, D, E , F and has multiple levels:
2nd level contains the train station.
3rd level is used for the passenger transport system connecting the terminal modules.
4th level is ground floor which contains check-ins, security security checkpoints, arrival hall, customs and food curt with many restaurants.
5th level is used by passengers for connecting flights.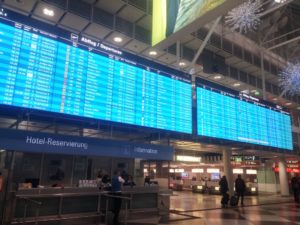 Terminal 2
Terminal 2 consists of the central plaza, Pier North, Pier South and connection to Satellite Pier. Terminal 2 has also multiple levels:
2nd level contains the train station.
3rd level contains the arrival area and is place for some check-in counters.
4th level is place for all the other check-in counters, the security check-points and duty-free shops.
5th level is place for the visitor deck and restaurants.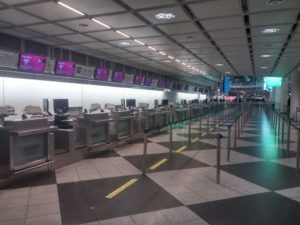 Transfer between T2 and new Satellite Pier is trough 382 meter tunnel equipped with automated PST (personal transport system) train. Train runs between T2 and its Satellite Pier within every one minute.
Note: The visitor platform "Sky Walk", a glassy corridor with view over landing zone is something even non-flyers can enjoy in Terminal 2. The entrance to the Sky Walk is on 6th level.
Munich Airport is very well equipped and everywhere are available information panels with paper leaflets with maps and information about airport services.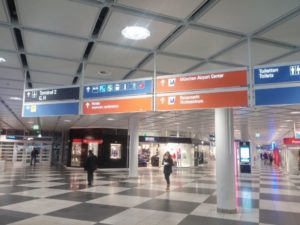 Business, Entertainment and Accommodation
The Munich airport by its scale and structure offers also business and entertainment center The Munich Airport Center (MAC). MOC includes a shopping mall, restaurants, a medical center. MOC is located directly between the Terminal 1 and 2. Next to the Munich Airport Center is also located airport hotel the Hilton Munich Airport hotel.
For more info about how to get from Munich airport to Munich, visit complex transportation guide.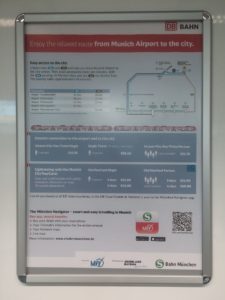 Shuttle Service
There is a bus shuttle service between Terminal 1 and Terminal 2 for all passengers with connecting flights, departing every 15. minutes.
Bus Connection
For more information on destinations, timetables and ticket prices contact the information desk in tghe MAC or in Terminal 2 [level 03]. Timetable details are also available at the bus stops. Routes to the bus stops at the MAC, at Terminal 1 [A,D] and at Terminal 2 [level 03] are marked. Please follow the signs.
| | |
| --- | --- |
| Postbus | Augsburg, Bamberg, Chemnitz, Deggendorf, Dresden, Erlangen, Innsbruck, Karlsruhe, Landshut, Nuremberg, Passau, Pforzheim, Regensburg, Salzburg, Stuttgart, Ulm, Wörgl |
| Flixbus | Augsburg, Garmish-Partenkirchen, Innsbruck, Salzburg |
| BusandFly | Bamberg, Erlangen, Nuremberg |
| MVV | Erding, Freising, Urlauberparken P41 |
| Ingolstadt, Langenbruck invg.de | Ingolstadt, Langenbruck |
| airport-linie.de | Landshut |
| autobusoberbayern.de Lufthansa Airport-Cuty-Bus | Munich Hbf, Schwabing[U6] |
| autobusoberbayern.de | Munich Messe [Riem] |
| bahn.de, studentagency.eu | Prague |
| scharf-reisen.de | Taufkirchen [Vils], Wartenberg |