Hotel Ekazent Schönbrunn is located in very good place, close to Schoenbrunn palace and Vienna Zoo. Schöenbrunn gardens are only a few steps from the hotel. You can find it hidden on the 4th floor of the small administrative and office building.
Hotel
After taking building's older, uncleaned elevator I got on the reception floor. Immediately my attention caught white Cockatoo parrot walking on the stick and digging the hole to the wall next to the reception. I checked in. When I was leaving I noticed a paper on the side of reception bar announcing 4-hour electricity blackout window scheduled for the night of my reservation. The receptionist did not mention in mutual conversation planned electricity blackout, nor explained walking parrot to me. Personally, I did not mind parrot as I took it something interesting for kids. But to plan any kind of electricity blackout in the middle of the touristic season is a little bit not acceptable.
Walking upstairs I noticed opened parrot cage full of excrements. Otherwise stay in the hotel went more or less smooth. I change my plans for work due to the electricity blackout window during the night and went to bad early.
Despite room was in the building corner, I still managed to catch a wifi signal. Although I do not know where routers were placed signal was decent, the connection went out only a few times.
Hotel Location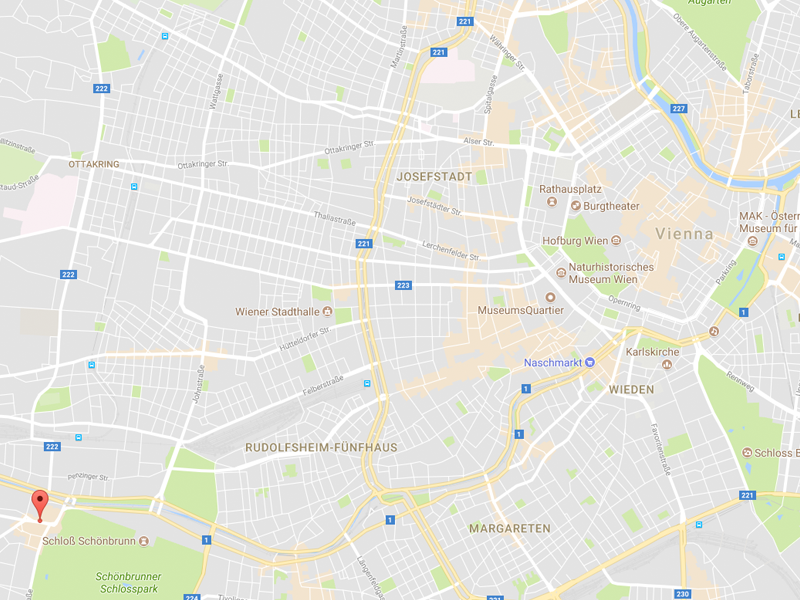 Parking is possible in public underground parking lot (paid) or on the street (free). On request, the hotel offers 24-hour price in the parking garage for € 20,50 (standard 24€). With the hotel, the elevator is possible to get directly to/from the underground garage.
The hotel has good public transport connection. It is only 300 meters from the closest metro station (U4 Hietzing) and only 100 meters from bus and tram stations. Reaching city center or airport train is possible without changing the trains.
The hotel is located in shopping corner with a lot of different shops.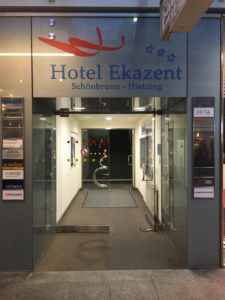 Hotel Ekazent Schönbrunn Vienna room – hotel entrance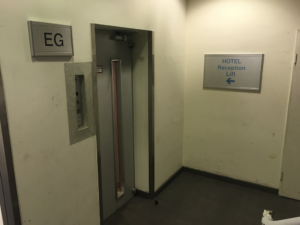 Hotel Ekazent Schönbrunn Vienna room – elevator first floor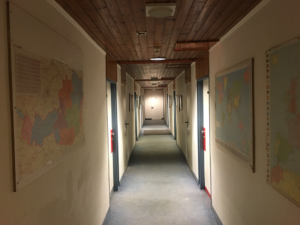 Hotel Ekazent Schönbrunn Vienna room – common corridor
Room
While traveling with my family I got hotel corner room for four people. Room did not have air-condition, only small plate radiators. We cooled room by opening windows to the busy street. Edgy TV screen reminded me technology from the past decade I already totally forgot. Following morning I woke watching spider crawling on the wall next to my bed.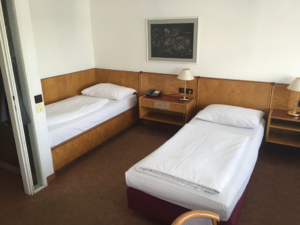 Hotel Ekazent Schönbrunn Vienna room view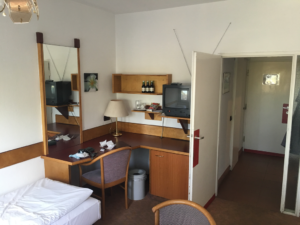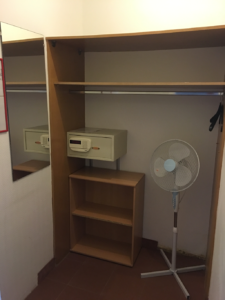 Overall
I would recommend Hotel Ekazent Schönbrunn in Vienna only for budget travelers who can bear some discomfort and go for the price. The hotel had several red flags for only one overnight sleep. I would not recommend this hotel for longer family stay despite fighting with parrot over Vienna info leaflet can be nice holiday refreshment.
Positives
Negatives:

vague personal
old furniture and equipment
parrot
| | |
| --- | --- |
| Overall confort | 3/5 |
| Overall cleanness | 2/5 |
| Overal value | 1/5 |