[toc]
This article is simple photo guide for buying train ticket on any German train station equipped with Deutsche Bahn (DB) ticket machines. This photo guide will take you trough whole purchase process and describe you every step to the detail. This article cover most of the ticket purchase cases, with only minor difference in the start and the end point of the journey.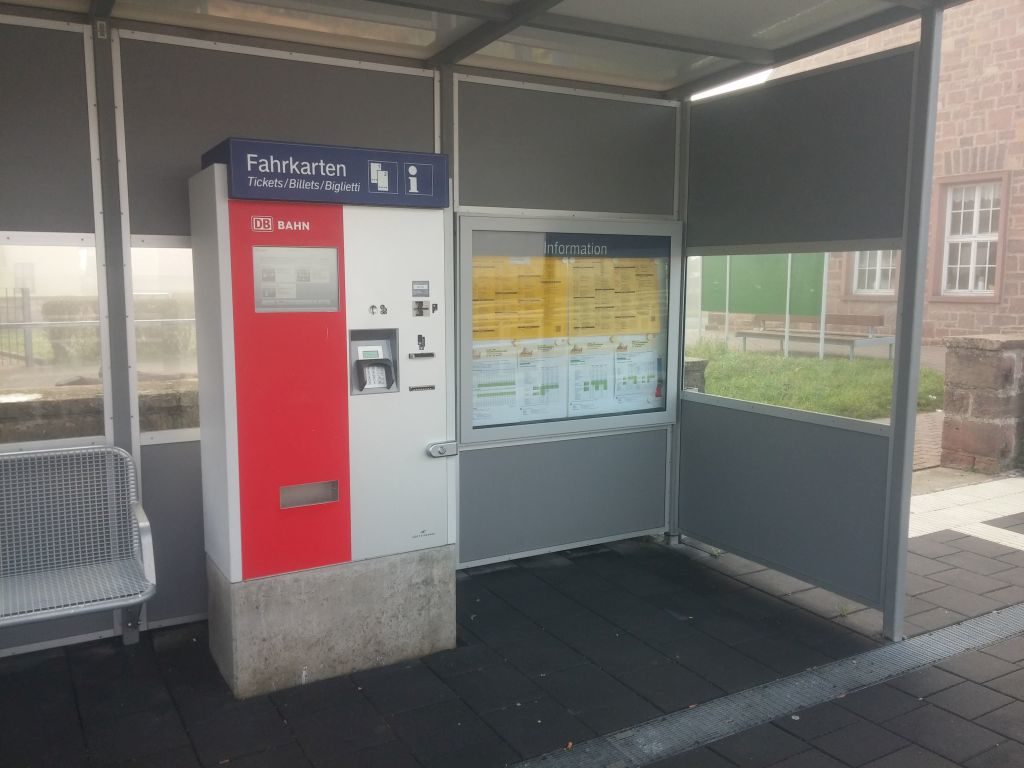 Buying the ticket over the DB train station ticket ticket machine is very easy. Processes is intuitive and is made very effective caused by typical German precision for detail.
Approach any train ticket terminal and select the desired language for use during the purchase. Simply hit a language flag on the bottom of the screen panel. The DB train ticket machine will automatically change to the desired language. There is always German, English, French, Italian, Spanish and Turkish language available. Hit the "Point of departure – destination" section.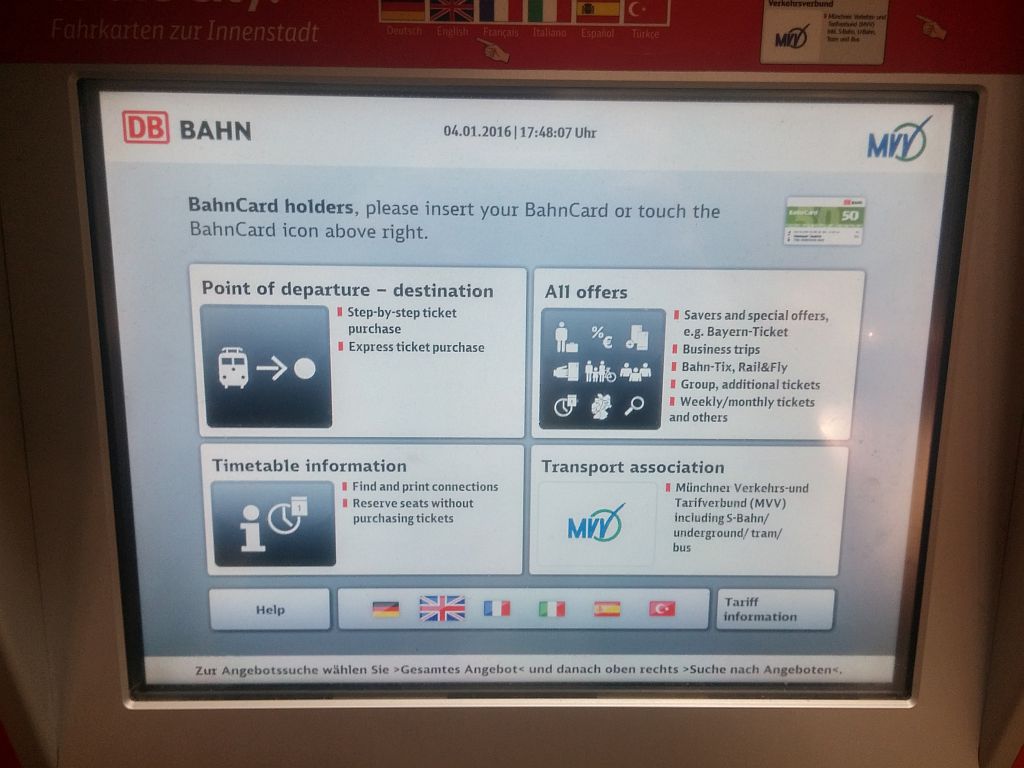 Point of the departure will be automatically selected as the DB ticket machine train station location. Click on "Enter destination" button and type desired destination train station. If you selected route of your journey hit a "Next" button.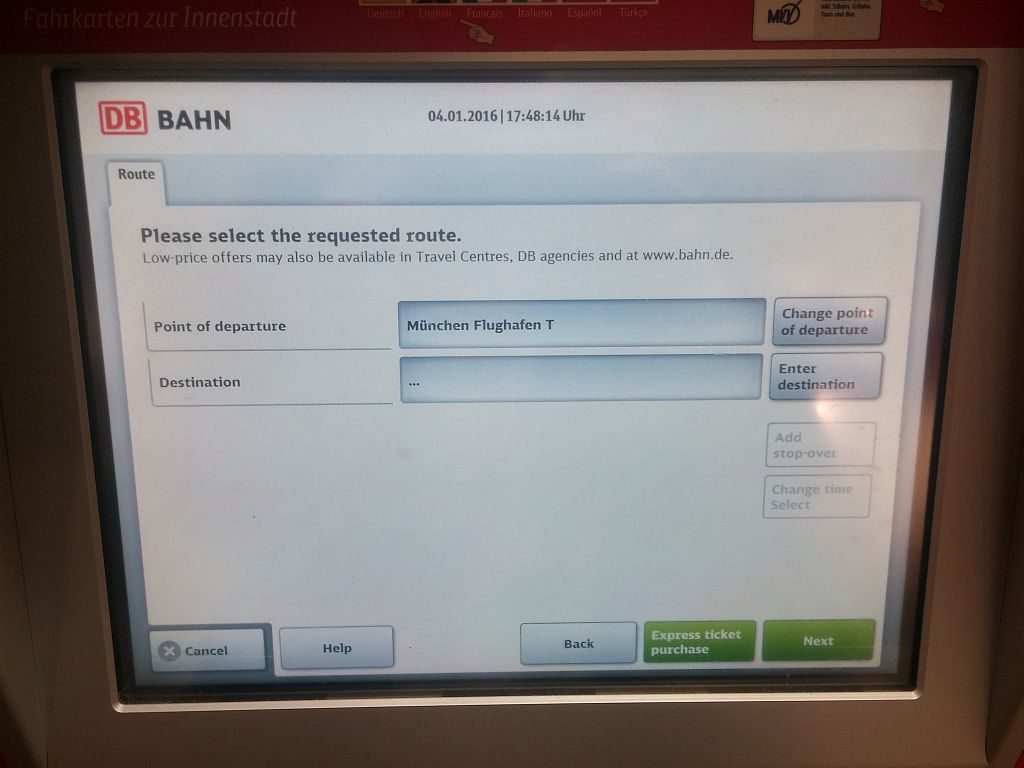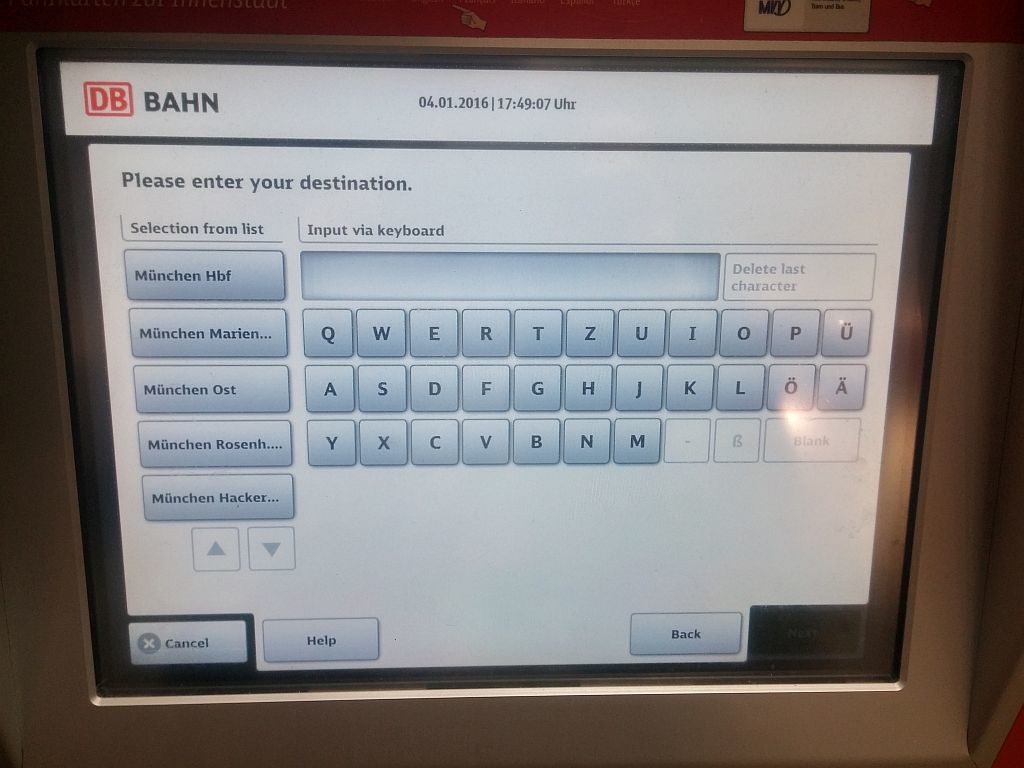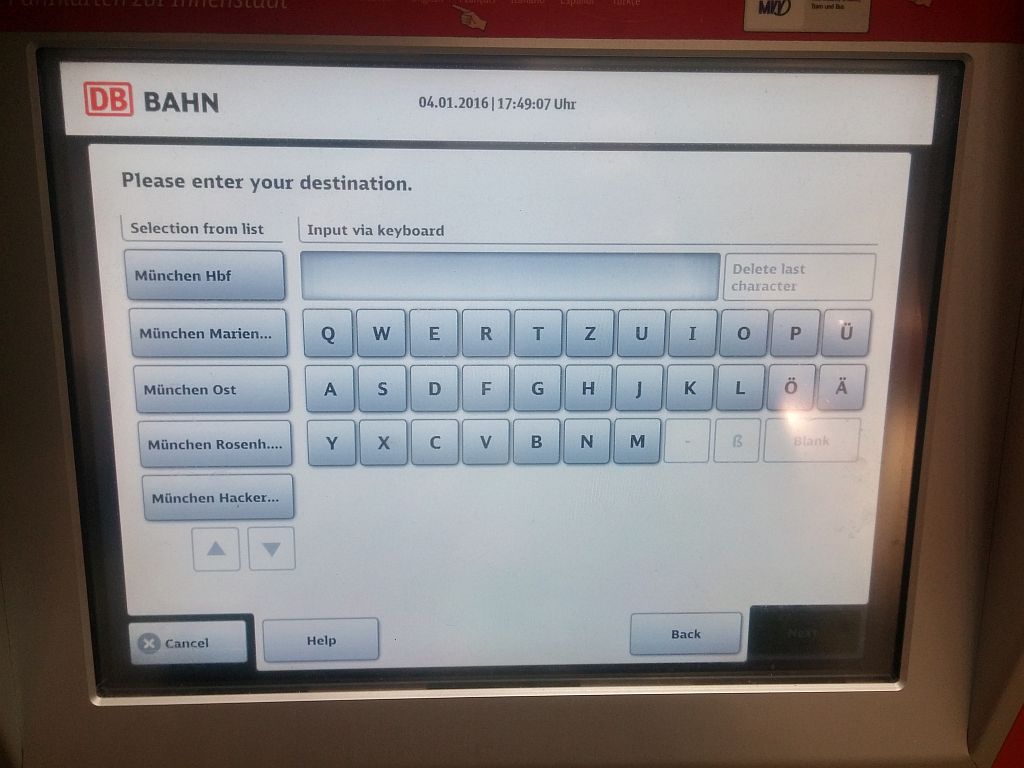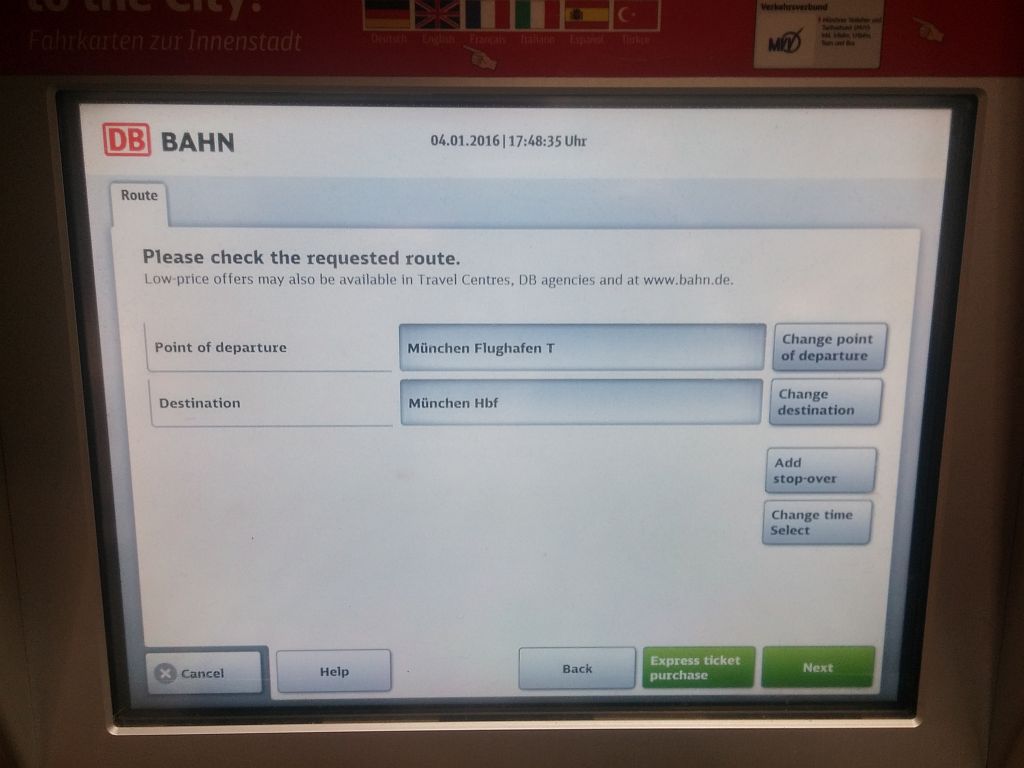 After hitting "Next" button timetable of departing trains shows up. Train connections are organized ascendric from closest to furthest. You can select desired train connection hitting "Select" button.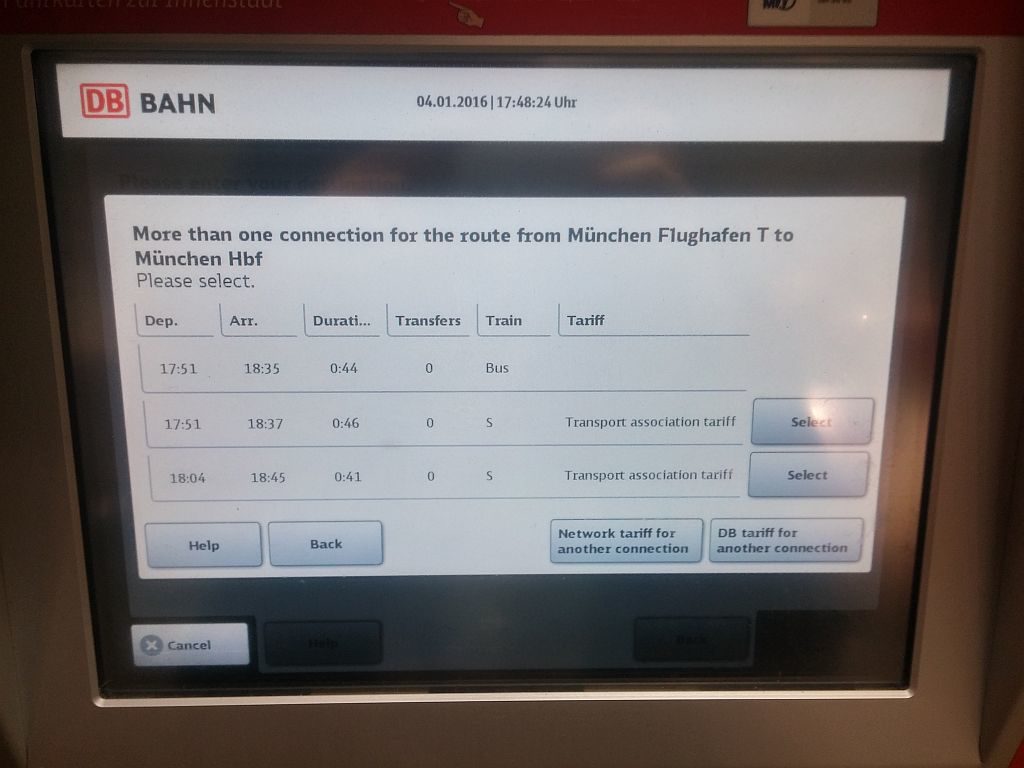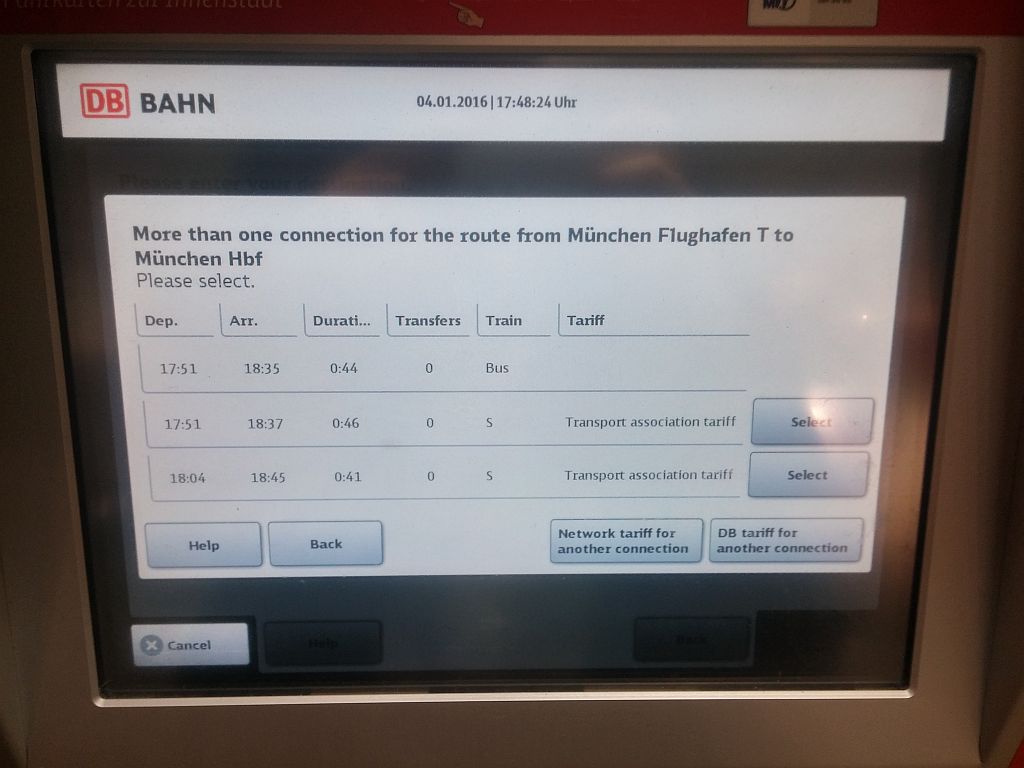 When correct train connection is selected new tab "Type of ticket" shows up. Now you can select type of train ticket you would like to purchase:
Single journey train ticket is valid only for single journey.
Outward and return journey train ticket is ticket valid for rides to desired destination and back.
Weekly and monthly pass are valid for certain time frame according personal selection.
Select train ticket type according your plans and than press green "Next" botton down right.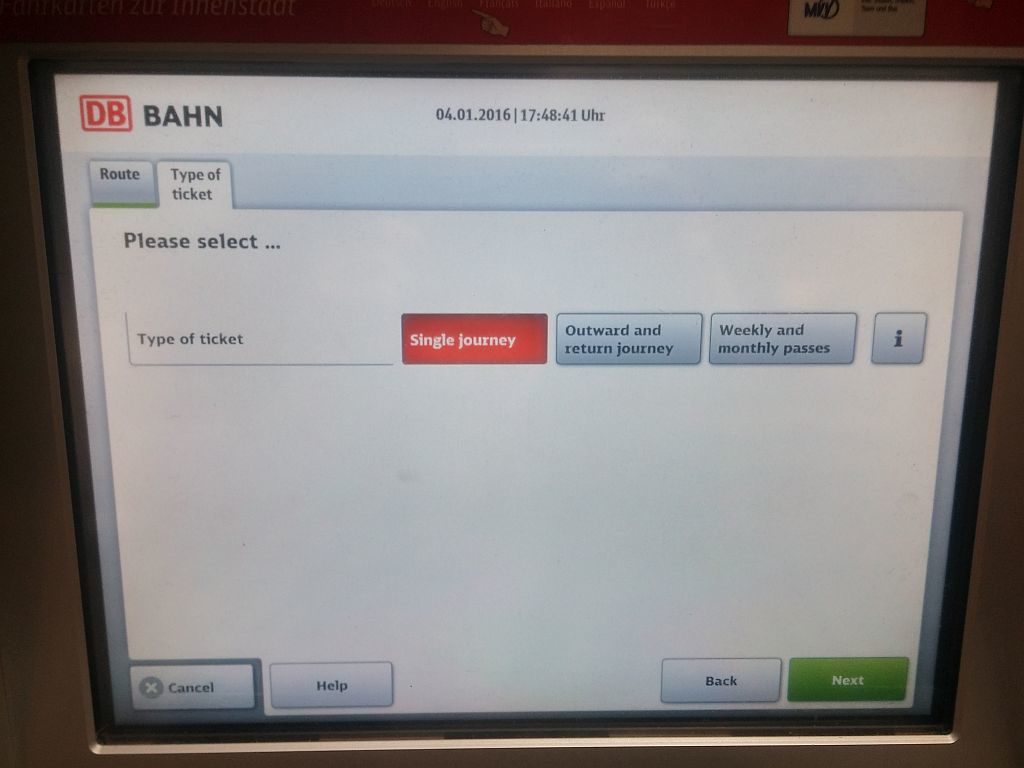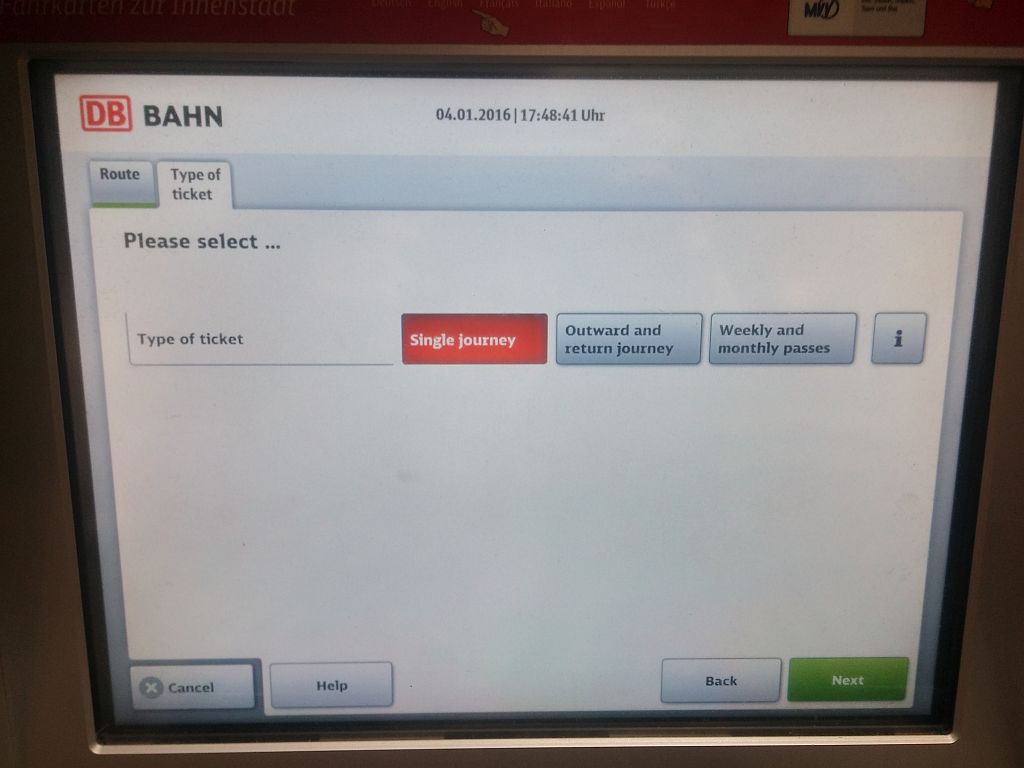 Immediately after selecting type of ticket a few other tabs about traveling condition will occure. First is "Passengers" tab where you can select number and type of passangers.
You can select between 1 – 5 adult passangers and 0 – 5 Children aged 0 – 14. It is strongly advised that children should be always traveling with their parents. Other type of passangers concern variously handicapped passengers, passangers with right for free travel and animals.
Traveling with children
Age
Benefits
0-6 years
Children aged under 6 always travel free of charge and do not need a ticket. It is not necessary to state these children on the train ticket.
6-14 years
The adult passenger's children or grandchildren aged between 6 and 14 travel free of charge. But their travel have to be stated on the ticket.

It is not possible to have the children added to the ticket afterwards on board the train.

Children traveling on their own

A separate booking has to be made for children traveling on their own.

Children traveling on their own are entitled to a discount of 50%.

You cannot book an Online-Ticket for children who are not accompanied by an adult. Tickets for children will be sent by post. If it is too late to order a ticket to be sent by post, you can only book a seat reservation.
Source: bahn.com
For our demonstration purpose we had selected "Single journey" train ticket and selected 1 adult. If you are ready hit green "Next" botton down right.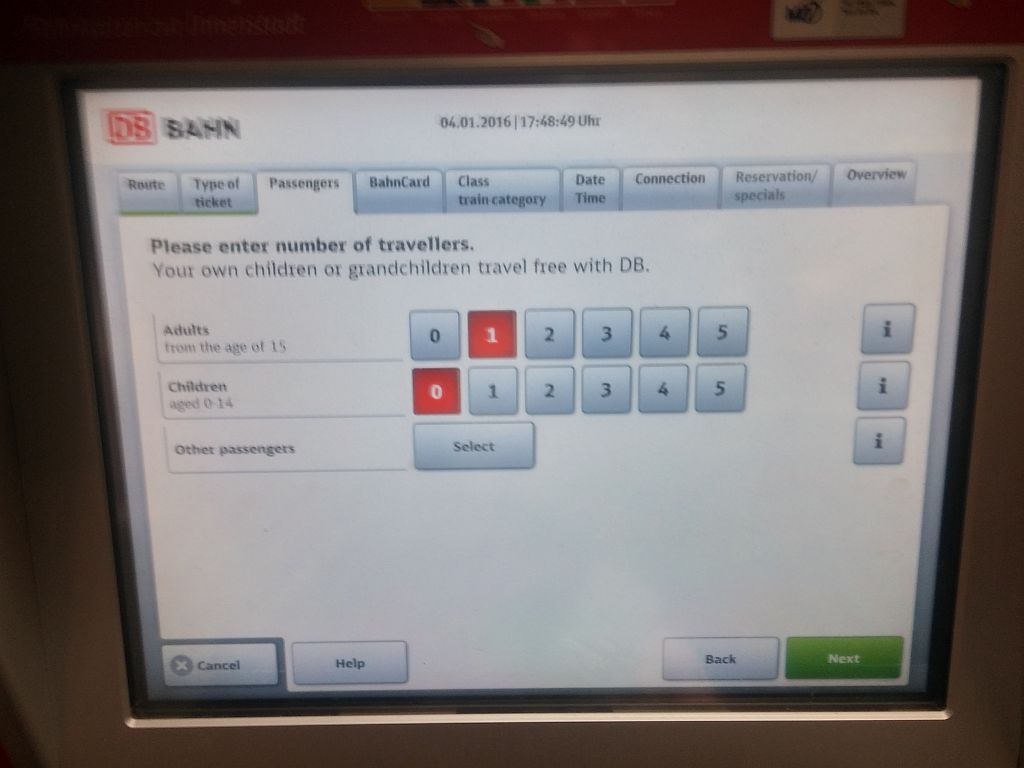 System automatically now recognized that you are in MVV zone and offered you Single journey ticket price from Munich airport to desired destination.
In our case it is Munich Central train station.